Construction Documents
From the ground up. Our team translates dreams and sketches to CAD drawings. We stay on board to consult as the contractor builds from our construction documents.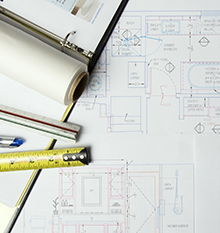 Sketches are beneficial to start imagining how your space can change, but when it comes time for construction, AutoCAD drawings and specifications are necessary. These may include any or all of the following depending on the project:
detailed, dimensioned plan drawing of existing conditions determined by field measurements
complete space plan(s) including furniture sizes and placement
reflected ceiling plan, lighting and electrical plan
detailed elevation drawings
cabinetry design and interior architectural details relating to other specific design elements
written specifications naming products and design intent
Our whole team is involved in any project requiring construction documents. We work closely with the general contractor, subcontractors, and homeowners during the building process, conducting site reviews and inspections as necessary to assure construction follows design intent, and problem-solving and redesigning when unexpected or concealed conditions arise.
Mary Jane Pappas is a Certified Interior Designer in the state of Minnesota, certificate number C00154. The drawings we produce for remodeling, renovation, and new construction meet state requirements for use by a builder.
---
Ready to Get Started?
No project is too big or too small. Contact Us by phone or email, we'll explain the first step.