Consultation
Communication is crucial. We love to educate, mentor, collaborate, and discuss with colleagues and the public about the value of good design.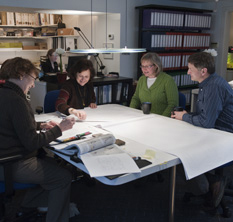 Our team has eight combined decades of design experience. We enjoy providing specific design solutions for our clients with this knowledge, but we also love discussing the theories at work, the interactions between people and products, and best practices in the industry. We've shared the knowledge base we've built in many settings over the years, and we welcome such opportunities in the following areas:
Hourly Consultation. We offer consultation by the hour regarding any home design issue. We believe that one hour of good design is better than none. We are available on an a la carte basis; you can hire us for any service for any length of time. Pappas Design can help you get organized and help you make selections; we will rearrange your existing furnishings, add a few pieces, or start from scratch. Our work spans all periods and styles.
Speaking. We educate the public and discuss design with colleagues at home shows, seminars, panels, and webinars.
Writing. We create articles and posts for magazines and blogs concerning new developments in interior design, product descriptions and comparisons, and projects with unique design challenges that we've worked on.
Teaching. We mentor younger designers in undergraduate and graduate programs, and assist designers in the field by working on conceptual designs together.
Specials. No project or budget is too big or too small. Check out our 180/360 Degree Program or Make Your Space a Better Place to get a lot of creative design in a budget-friendly package.
---
Ready to Get Started?
No project is too big or too small. Contact Us by phone or email, we'll explain the first step.