Interior Design
Show your true colors. Transform your space with the perfect furnishings, palette, and appliances.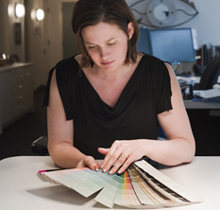 The delight is in the details. As interior designers, we've built up a vast mental and external database of products. While we love being current on the latest trends in design, we always make selections based on you. Following your lead on style, we offer guidance and consultation on interior selections of all kinds. These may include:
cabinetry design, material, and finishes
countertops and backsplashes
plumbing fixtures and fittings such as sinks, faucets, and toilets
millwork, doors, and windows
lighting fixtures and electrical devices
paints, wall coverings, and artisanal finishes
floor finishes including tile, wood, and carpeting
furniture, upholstery, pillows, decorative accessories, and art
window coverings such as blinds, curtains, and draperies
After we make these selections together, our team compiles a binder of specification documents. These documents contain images, names, and part numbers for all products, as well as links and websites that illustrate product details. These specifications provide contractors and subcontractors with construction details, design intent, and specific descriptions to aid bidding and building.
We maintain a digital copy of specifications so that, in the future, you can find out what products were used in your home.
---
Ready to Get Started?
No project is too big or too small. Contact Us by phone or email, we'll explain the first step.