Space Planning
You've adapted to your house. We'll help your house adapt to you.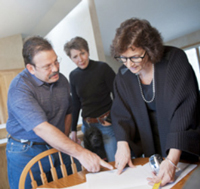 What are your goals for your home? Do you have pets or do you plan to? How often do you cook in your kitchen, and what kinds of foods do you prepare? Are you left-handed? In our initial meetings we seek to understand how you use your space and how you want to use it. Our questions range from broad to very specific, and some might surprise you. Perhaps even your answers will surprise you!
During this process, we visualize possibilities in your existing space. The concepts we come up with are based on our knowledge and expertise; they reflect what we hear from you, the homeowner.
We can help you with any home issue, large or small:
from organizing a closet to gutting and redesigning an entire space
arranging your furnishings in a new way and/or providing referrals to artisans, craftsmen, and technicians who can refresh, repair, or refinish
evaluating plans for a new home and advising on changes to the space plan
understanding and exploring ergonomics, code compliance, and universal design
Feng Shui
Feng Shui is a term that is thrown around in pop culture without much understanding. In truth, it is a system based on how energy flows through a space. Mary Jane Pappas is a Feng Shui practitioner who can provide evaluations of your home using Feng Shui principles, and determine and advise adjustments to improve your life. We offer this service, though we do not include Feng Shui if you are not interested.
---
Ready to Get Started?
No project is too big or too small. Contact Us by phone or email, we'll explain the first step.