Posted on Monday, February 10, 2014, by Pappas Design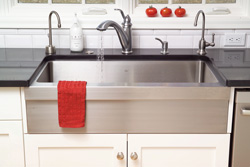 Considering a new kitchen sink? My series of tips will help you choose the sink that's right for you.
What to consider: number of basins (one large basin? two or three basins?), bridge height (the divider between the basins), overall shape, size and depth, shape of the basin corners, drain location, material, and how it will be installed.
This tip, the first in a series, compares single basin and double basin sinks. What's the advantage of a double basin sink? It separates functions. For example, you can use one basin for food preparation and cleaning, and the other basin for rinsing and drying. Dishes can drain in the sink, below counter level, so you don't notice them. And there is less water clean up than draining on the countertop.
The disadvantages? A double basin sink (usually 33" x 22" or larger) may take up more cabinet and counter space than a single basin sink. Plus the dividing bridge between the basins gives you two smaller rather than one large basin.
What counts most is how you'll be using the sink and what is comfortable for you. If you're thinking of purchasing a new sink, pay attention to your current habits as you use your kitchen sink. It may be time for a change!